Our Role as a Trading Company
ITO Corporation is a trading company specializing in industrial machinery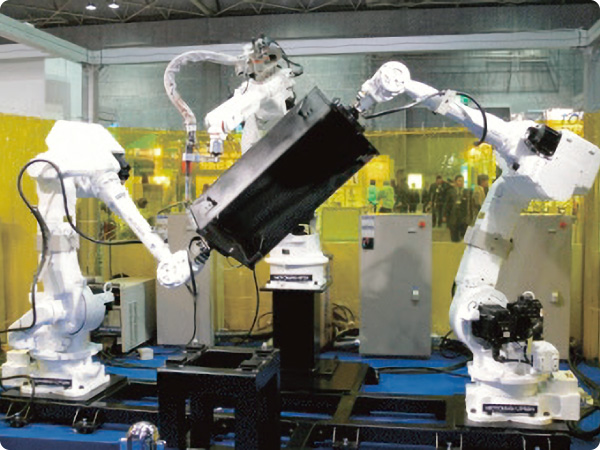 ITO Corporation is a specialist industrial machinery trading company that furthers the evolution of moving things. While providing industrial machinery is a given, we also provide our customers with industrial robots and complex multi-product systems to fit their needs.
ITO Corporation performs three main functions. The first is selecting the right machinery to solve our customers' problems, and providing support with procurement and delivery. In order to provide our customers with suitable solutions and products, we also supply them on a consistent basis with the information they need to tackle their challenges. Lastly, to ensure that everything goes according to plan at each stage, from system design to post-installation, we provide customers with comprehensive technical support. By performing these three functions, we provide solutions borne from moving things.
Proposals that can only be made by a trading company specializing in industrial machinery
Our customers face various problems on-site, whether related to system operation or employee work environment; perhaps they are trying to cut costs, or would like or automate labor-intensive work. In order to solve these problems, we must make use of our varied product knowledge to conduct detailed analyses and provide customers with the kind of solutions that are right for them. To solve our customers' problems, ITO Corporation searches out the right products from our global network of providers. Our huge selection of machinery and parts is precisely what gives us the knowledge and expertise required to provide solutions for a wide variety of problems--solutions tailored to the customer's intended goals and product applications.

As a trading company, we make use of our extensive global product and information networks--providing solutions perfectly suited to our customers, along with excellent technical support. We specialize in combining not just things, but also people, businesses, and ideas, creating an entirely new kind of value. This is something that only ITO Corporation can do, and we consider it our duty to our customers.

We look forward to your calls,
so please don't hesitate to contact us.
Telephone Inquiries:

Business Hours: Mon. - Fri., 9am – 5pm JST (excludes public holidays)